Home>Events>Summer Reading Program Animals from Around the World
Summer Reading Program Animals from Around the World
Tuesday, June 20, 2017
to
Thursday, June 22, 2017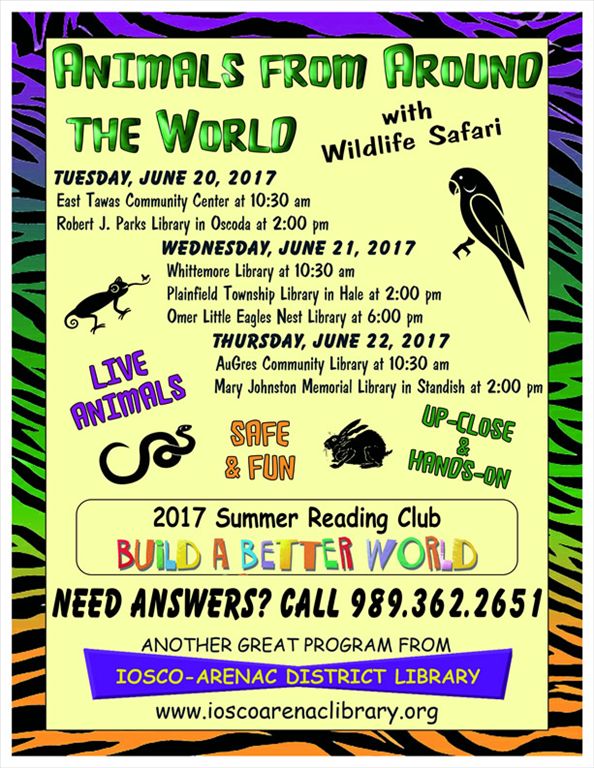 Join Us for our Animals from Around the World Event!
The Iosco-Arenac District Library hosts Michigan based, Wildlife Safari for an exciting and unique hands-on experience with up to six LIVE ANIMALS. This program will be repeated at various locations and times from June 20-22. See below for full schedule.
Free and open to the public.
For more information call the District Library at 989-362-2651 or visit www.ioscoarenaclibrary.org
For lib. locations click the link below--
http://www.ioscoarenaclibrary.org/all%20branches.htm
June 20
10:30 am
E. Tawas Com. Ctr., 760 Newman St., E. Tawas
2:00 pm
Robert J. Parks Lib., Oscoda
June 21
10:30 am
Whittemore Lib., Whittemore
2:00 pm
Plainfield Twp. Lib., Hale
6:00 pm
Omer Little Eagle's Nest Lib., Omer
June 22
10:30 am
AuGres Community Lib., AuGres
2:00 pm
Mary Johnston Mem. Lib., Standish