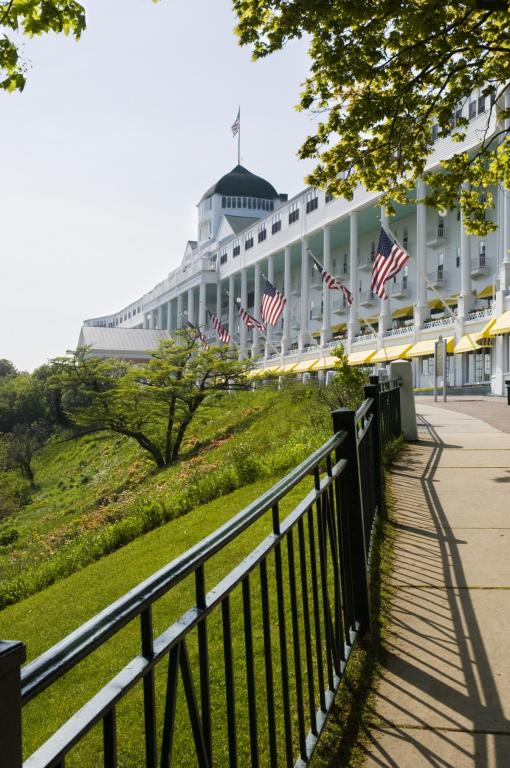 Mackinac Island: Mackinac Island is the truly "all natural" theme park of America. Limited to transportation of horse and buggy, bicycle or foot, surrounded by water, it has escaped the vast changes of time.
Its real Victorian image is preserved and enhanced by a small population of 500 permanent residents and scores of summer residents, maintaining bluff cottages in original state. Historic sites abound across the island. Families, especially children, love their relatively new found "mobility", exploring the historic, natural beauty of Mackinac Island State Park, honored by National Geographic as one of the ten finest in America.
The calendar of events on Mackinac Island is highlighted by the Annual Lilac Festival, climaxed with one of the largest "All Horse Hitch" parades known. The American Bus Association has designated Mackinac Island's Lilac Festival as one of the nation's top 100 tourist attractions.
The residents are warm and friendly, even during the Island's brief but unique winter holiday and cross-country season. Prices are best in winter, spring, and fall, of course, but the enjoyment level never fails to put new perspective into the concept of relaxation.
When you step off of the Island Ferry Dock, you will be in a living Victorian village. Please cross streets on straight angles rather than diagonally and be aware of horses, bikes and people stepping off of carriages, enjoy the downtown hustle and bustle of the early 1800s but don't miss the beauty of the Island's interior and peaceful lakefront perimeter path. Once you've visited our beautiful Island, you will find that it is your Island, too. www.mackinac.com or www.mackinacisland.org
Mackinac Island State Park:
This is Mackinac Island State Park, a landscape characterized by high limestone bluffs, beautiful vistas of sparkling water, vibrant forests, and mystical geological formations. With automobiles banned since 1898, here exists a quieter way of life away from interstate noise of cities. Over 80 percent of Mackinac Island is within Mackinac Island State Park-free of charge and open year round-where you'll discover the true natural gems of Mackinac. Whether visiting this island parkland by foot, bike, horseback, or carriage, these many majestic geological wonders and unique historical monuments are visual treasures found only here-on the island sacred to the Ojibwa and Odawa Great Lakes Indian tribes. According to them, this is where life began. You're invited to discover why. www.mackinacparks.com
Things To Do
Bed & Breakfast, Biking, Cross-Country Skiing, Dining, Gift Shopping, Golfing, Grocery Shopping, Guided Tours, Hiking, Horseback Riding, Hotel, Recurring Cultural Event, Scenic Viewing, Self-Guided Touring, Short Term Rental, Soft Goods Shopping, Swimming, Touring




GPS: 45.86419, -84.62906
Included In: