Friday, June 4, 2021
to Sunday, June 13, 2021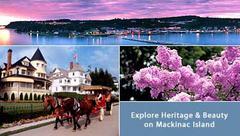 This festival features days of activities and ends with one of the largest festival parades in Michigan.
See over 100 different species of lilacs throughout the splendor of Mackinac Island. A day on Mackinac Island during the Lilac Festival is the perfect Spring getaway.
The 10-day celebration is the first and largest summer event on the Island, attracting thousands of visitors. A celebration that blends the Island's historic varieties of lilacs – many of which were brought here during the Colonial era; distinctive equestrian culture; fine food, drink and accommodations plus a range of other activities, the festival is one of the Island's biggest attractions.
Festivities include the coronation of the Lilac Festival Queen and Court, Movies at the Mission, Grand Hotel Garden Tour, Grand Hotel History Lecture, horse drawn carriage tours, numerous concerts, sailing tours of the harbor, boat cruises under the Mackinac Bridge, wine tastings, Lilac Festival 10K Run, A Taste of Mackinac Culinary Event, Dog and Pony Show and the festival's signature event, the all horse hitch Mackinac Island Lilac Festival Grand Parade.
Held on the lawn of the Harbour View Inn and surrounded by some of the Island's oldest lilacs, the Taste of Mackinac provides locals and visitors an opportunity to sample culinary favorites served by chefs from the Island's restaurants. Cuisine ranges from Colonial to contemporary and includes fares such as New American, French, Irish, Italian, Jamaican and Mexican.
Visit the website!
Various places on Mackinaw Island. Contact the Mackinac Island Chamber of Commerce 1-800-454-5227.