Home>Events>The Besser Museum Season of Light Reception
The Besser Museum Season of Light Reception
Saturday, November 17, 2018
6:00 PM to 8:00 PM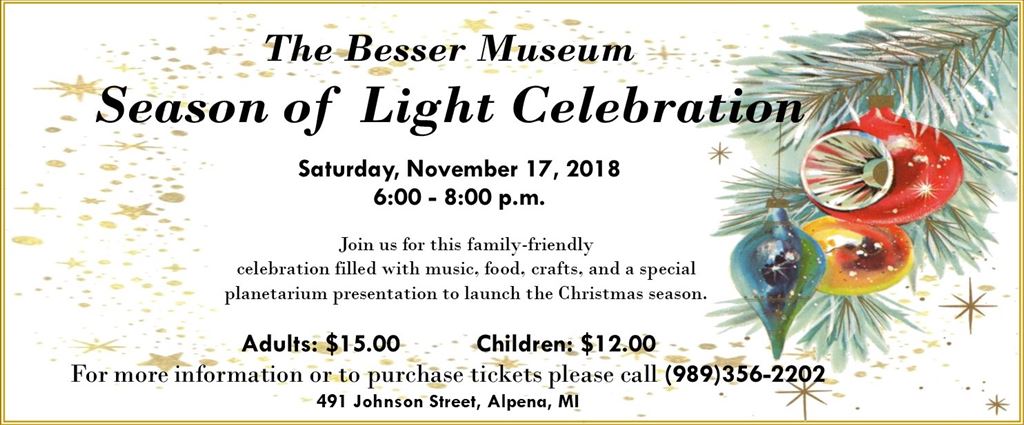 The Besser Museum for Northeast Michigan's annual Season of Light exhibit is scheduled to open Saturday, November 17th with a family-friendly reception filled with music, food, holiday crafts, and a special planetarium presentation from 6pm – 8pm. Advance tickets are available at the Besser Museum, $15.00 for adults and $12.00 for children. With Twelve Stations of Celebration, there is something for everyone to enjoy at this year's Season of Light reception.
The 2018 Season of Light exhibit is sponsored in part by Alpena Power Company.
A lot of planning goes into the Season of Light Exhibit, as each year the Besser Museum is transformed into a magical winter wonder land with the help of museum volunteer exhibit designers, Delynn Medina and Marilyn Thom.
The Trees of Nations exhibit, along with the Community Trees are always favorite among visitors. This year the Community Trees gallery will feature sixteen trees all uniquely decorated to represent the services provided by each community organization participating. Among those decorating a tree this year are the Blue Light Project, Friends of Thunder Bay National Marine Sanctuary, Thunder Bay Arts Council, Thunder Bay Basket Guild, Brown Trout Festival, 4-H, Alpena Boys & Girls Club, Youth Volunteer Corp, Alpena Area Convention & Visitors Bureau, Alpena Youth Center, Thunder Bay Wildlife Center, Alpena Community College Language Department, Downtown Development Association.
Museum guests will enjoy delicious hors d'oeuvers and sweet treats served by JJ'sCatering while listening to a seasonal selection of music provided by local performers. Families will share in the joy of making special holiday crafts in Santa's workshop. There will be make and take projects provided by Home Depot, cookie decorating provided by Neiman's Family Market, and fun holiday craft stations. The digital dome planetarium theater will also be showing a special Season of Light presentation.
Tickets will be available for purchase at the Besser Museum until November 14, 2018. For more information or to purchase tickets all 989-36-2202.