Home>Events>Art and Astronomy Winter Activity Days
Art and Astronomy Winter Activity Days
Saturday, February 23, 2019
12:00 PM to 2:00 PM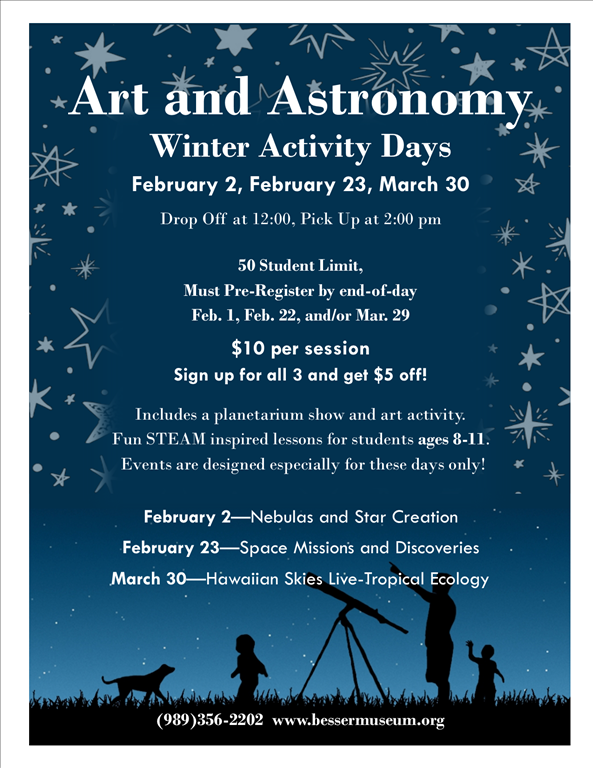 The Besser Museum for Northeast Michigan will be hosting a series of Art and Astronomy Activity Days to liven up the end of the Winter season! Our lessons are all STEAM-focused to support a full learning experience for students ages 8-11. Science, Technology, Engineering, the Arts and Mathematics all have important roles in childhood education, and together produces creative innovators and leaders for our 21st century!
Planetarium Coordinator and resident astrophysicist, Johnathan Winckowski, brings his scientific knowledge to the table with in-depth topic discussions and Fulldome visuals. He comes to us from the University of Toledo and holds a degree in Physics. Education Coordinator, Amanda Kucharek, accentuates the "Art" in "STEAM" with hands-on activity stations that interpret sciences creatively. She grew up attending Besser Museum activity days just like this one and has a degree in Art Education from Northern Michigan University. As a team, they designed planetarium shows and art activities just for these activity days!
On February 2, we will tackle the topic of "Nebulas and Star Creation". Utilizing our digital dome technology, students will witness the wonders of our universe as we explore the evolution and lifetimes of stars! Learn about the contents of star dust, and the reasons that our eyes can perceive a rainbow of colors in our night sky.
We will be looking at past, present, and future "Space Missions and Discoveries" on February 23.
2019 marks the 50th anniversary of the moon landing, so let's take the time to both remember some of the adventures that changed our world forever and imagine the missions of the future!
Still feeling the winter blues? On March 30, "Hawaiian Skies Live" will warm us up a little as we learn about the special tropical ecology of the Hawaiian Islands! Being so much nearer to the equator, the night sky is sure to look a bit different too!
Each session costs $10 to attend. If you sign up for all three, you will receive $5 off your total. Student drop-off is at 12:00, and pick-up is at 2:00pm. There will be a 50-student limit, so pre-register soon! You must fill out an emergency contact form before end-of-day on Feb. 1, Feb. 22, and/or March 29 preceding the events.
Make a stop at the Besser Museum, or call (989)356-2202 to reserve your place.