Home>Events>Santa's List Treasure Hunt
Santa's List Treasure Hunt
Sunday, December 8, 2019
10:00 AM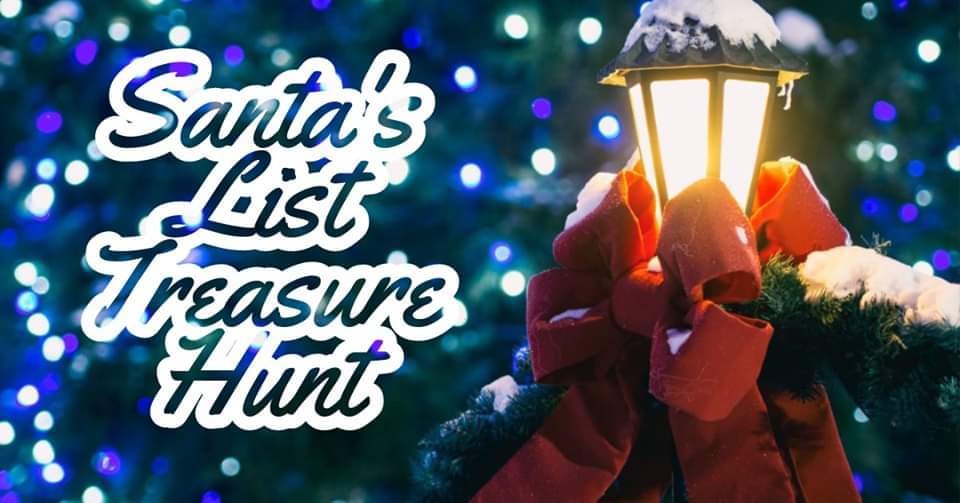 Santa's List Treasure Hunt will start at 10AM on Sunday December 8th. The Hunt will consist of a set of scavenger hunt style clues and a final riddled clue, that will lead to a treasure chest worth real CASH (up to $1000).

A cell phone with picture messaging capabilities is needed to take place in the hunt. This is a winter Treasure Hunt, and because its cold, this hunt will be designed to include only short periods traversing outside in the cold.

Can your group find the items Santa needs the fastest? If you do, Santa will let you in on exactly where his secret bag of gifts is hidden, which includes a chest containing the cash prize certificate!

Ticket prices are below, because this is a Christmas Treasure Hunt, we would like to offer a discounted price on any ticket that includes a donation of a toy, The toys will be given to help needy families this holiday season. We will have a toy bin on location a few weeks leading up to, as well as, the day of the hunt.
Ticket Prices:

Group Ticket (up to 5) $50
Single Ticket (1) $15
Group ticket (with donation) $35

The Hunt will start in the Parking lot of BOTG Geoventures. Everyone will receive an envelope containing Santa's list of clues to the treasure, when the horn blows the race is on to find Santa's sack of Treasure's.
BOTG Geoventures
900 W. Chisholm St.
Alpena, MI 49707