Home>Events>An Evening with Dr. Mona Hanna-Attisha
An Evening with Dr. Mona Hanna-Attisha
Friday, April 24, 2020
7:00 PM to 9:00 PM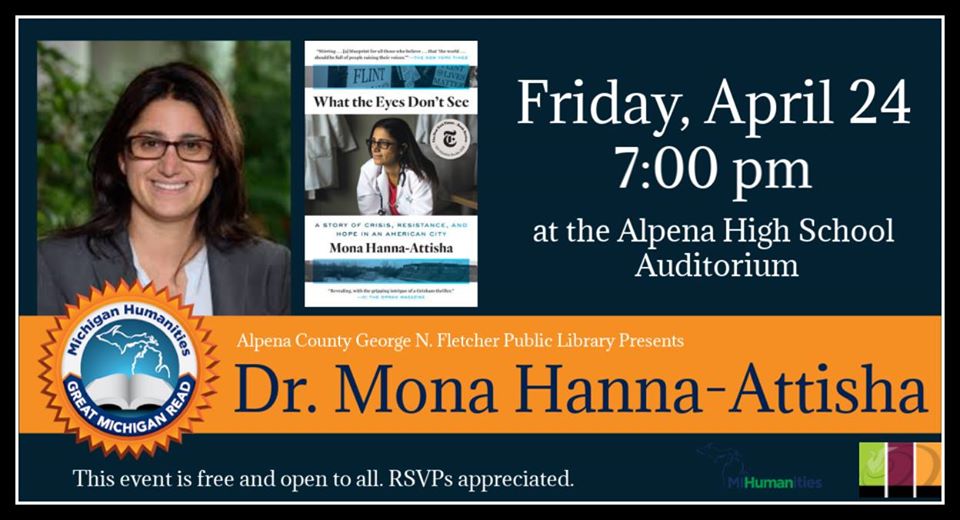 On April 24, please join Alpena County George N. Fletcher Public Library in welcoming Dr. Mona Hanna-Attisha, the author of this year's Great Michigan Read selection WHAT THE EYES DON'T SEE, to Alpena! A riveting account of a shameful disaster that became a tale of hope, the story of a city on the ropes that came together to fight for justice, self-determination, and the right to build a better world for their—and all of our—children, WHAT THE EYES DON'T SEE is a must-read.

Dr. Mona's presentation will begin at 7:00pm and will be followed by a Q&A and book signing. Please note that this event will be held be held at the Alpena High School in the auditorium.

Copies of WHAT THE EYES DON'T SEE will be available for purchase before and after the event. Book sales will be provided by downtown Alpena's Parallel 45 Books and Gifts.

Registration is not required, but is greatly appreciated. To RSVP, please register for tickets via FB or on Eventbrite (https://www.eventbrite.com/e/presentation-book-signing-with-dr-mona-hanna-attisha-tickets-90203748841). This event is free and open to all. Please do reach out to Jessica Luther about accessibility accomodations or with questions and concerns at 989.356.6188 ext 25.


One title, one state, and thousands engaged in literary discussion.

Michigan Humanities' Great Michigan Read creates a statewide discussion around the humanities themes of a selected book. Through partnerships with libraries, schools, book clubs, and a wide range of other non-profit organizations, the Great Michigan Read facilitates statewide reading and programs to bridge communities around a common conversation.