Friday, September 29, 2023
to Sunday, October 1, 2023
7:30 PM to 10:00 PM
Rogers Theater hosts the 26th Annual Manhattan Short Film Festival September 29 through October 1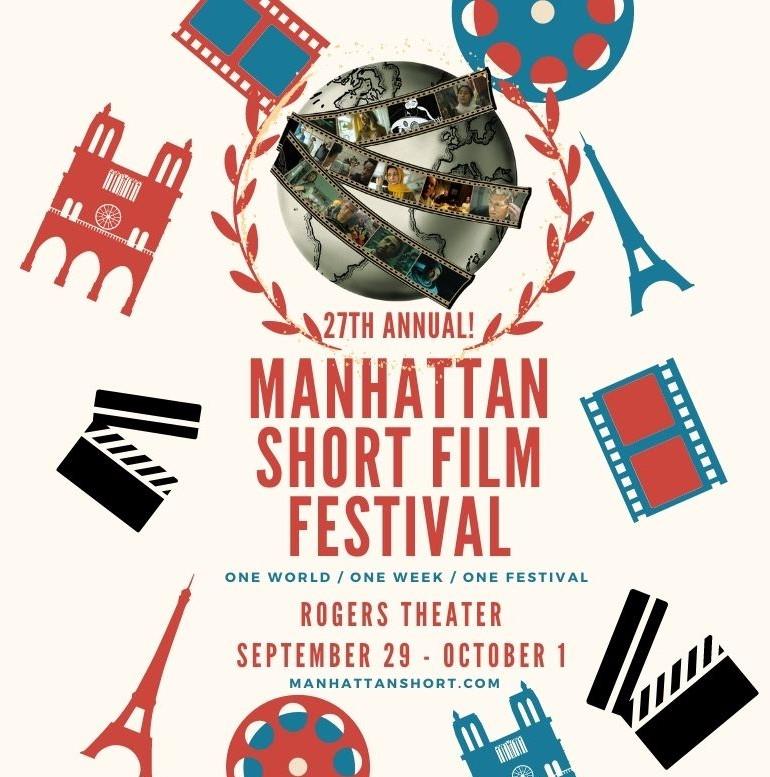 MANHATTAN SHORT selected its final top ten films for its 26th Annual Short Film Festival, a worldwide event taking place in over 500 venues across six continents between September 28 and October 8, 2023. MANHATTAN SHORT is the only event of its kind. The Final Ten screen simultaneously across the world during a one-week period, with the Best Film and Best Actor awards determined by ballots cast by the audiences in each participating venue. By virtue of their selection by MANHATTAN SHORT, each short film is automatically Oscar-qualified.
View this year's trailer https://youtu.be/wcesC4JtTJ8
Introducing the MANHATTAN SHORT Finalists of 2023
The Final Ten MANHATTAN SHORT finalists hail from seven countries with films from Australia, Afghanistan, Finland, Iran, Switzerland, UK and Canada alongside three films from the USA. These Final Ten Films represent the best short films from among 850 submissions from 72 countries received by MANHATTAN SHORT for 2023, testimony to the enduring vibrancy and creativity of short films worldwide.

The MANHATTAN SHORT Final Ten are:
Sunless (USA), Voice Activated (Australia), Yellow (Afghanistan), Tuulikki (Finland), The Family Circus (USA), Career Day (USA), Snail (Iran), The Record (Switzerland), The Stupid Boy (UK), Soleil De Nuit (Canada)
The 2023 line-up is linked by a common theme: how we face adversity, whether it is imposed by others or arises from personal circumstances. The 10 short films in the program feature narratives that are dramatic, sometimes humorous, occasionally magical and always inspirational!
All Final Ten short films become Oscar-qualified, meaning they will be automatically eligible for an Academy Award nomination by screening for a week at the Arena CineLounge in Hollywood in the county of Los Angeles from Sep 22 to Sept 28.
You Be the Judge!
Which of these Final Ten short films is the best? That's up to a worldwide audience to decide. Cinema-goers across the United States and around the globe will become instant film critics as they are handed a ballot (see example below) upon entry that allows them to vote for the Best Film and Actor. MANHATTAN SHORT is the ultimate audience award that salutes the creative talents of both directors behind the camera and actors in front of it. Votes will be sent through to MANHATTAN SHORT HQ with the winner announced at ManhattanShort.com on Monday Oct 9, at 10AM EST.
The Rogers Theater has hosted this unique film festival for eleven years and it continues to be a popular film festival. "I think one of the reasons why so many of the audience participants continue to return year after year is because of these incredibly unique stories that are told by filmmakers from around the world with interesting perspectives that captivate a viewer. It's challenging to tell a story in a short film in less than thirty minutes and these films are vetted prior to distributing to theaters globally". Stated Anne Belanger, Program & Outreach Director. "I've been working with Nicholas Mason, Founder of Manhattan Short for eleven years and every year we continue to be amazed by the quality of these films and the craftsmanship of these actors and filmmakers. It's a unique opportunity for the public to engage in a world-wide film screening where they get to vote for best actor and best film…that ultimately qualify for an Oscar at the 2024 Academy Awards. This year's lineup of films are insightful, compelling, and even humorous. It will leave an impression on all those who participate in the screenings", she added.
The films will be screened at the Rogers Theater starting Friday, September 29 through Sunday, October 1. Friday and Saturday screenings are at 7:30 pm; and Sunday matinee at 2:00 pm. The Manhattan Short Film Festival is open to the public with some adult subject matter. A Freewill donation is suggested at the door.
A special celebration will be held under the newly restored Rogers Theater marquee on Friday evening prior to the opening of the MANHATTAN Short Film Festival. It's the big reveal of the fully restored marquee including new energy efficient lights and the chaser lights. Join us under the Rogers Theater marquee at 6:30 pm for "Lights On at the Theater".
For more information, please visit the Presque Isle District Library at www.pidl.org
The historic Rogers Theater is located at 257 N. Third Street, Rogers City, MI 49779 in beautiful downtown Rogers City.