Thursday, November 10, 2022
7:30 PM to 9:00 PM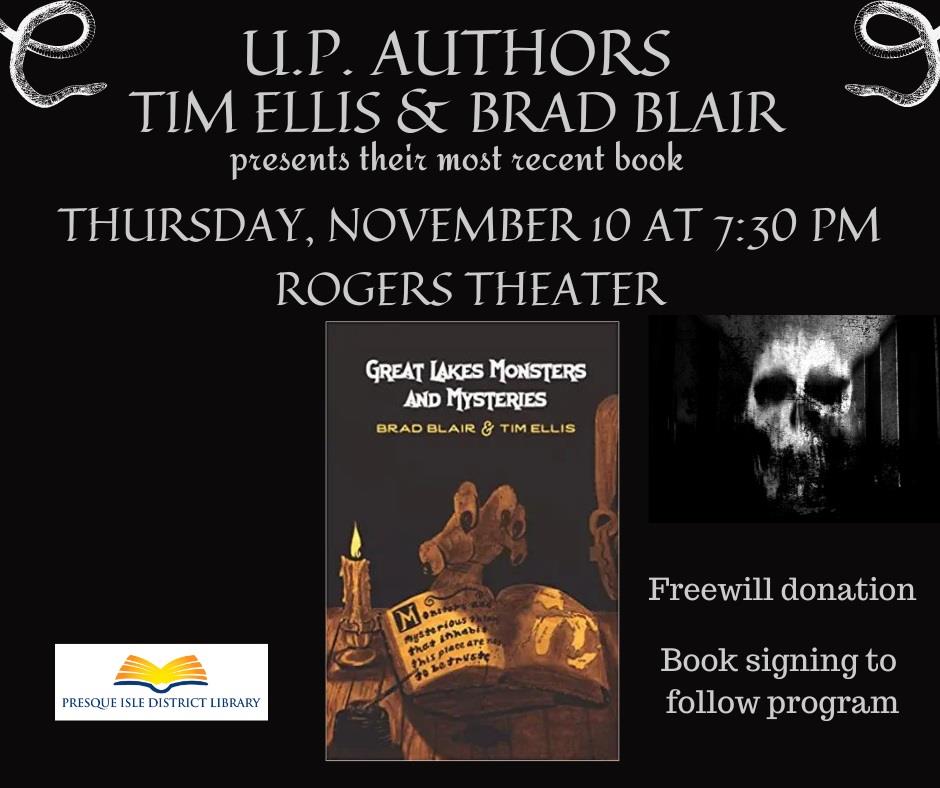 U.P. Authors, Tim Ellis and Brad Blair present their recent book, "Great Lakes Monsters & Mysteries" at the Rogers Theater on Thursday, November 10, 2022 at 7:30 pm. Freewill donation at the door and book signing to follow the program.
Our world is filled with hidden mysteries and wonders for those who open themselves to possibilities that science has not yet explained. Tim Ellis and Brad Blair, two of the authors who brought you Yoopernatural Haunts: Upper Peninsula Paranormal Research Society Case Files, continue their exploration of the bizarre and otherworldly in their latest book, Great Lakes Monsters and Mysteries.
Join Brad and Tim as they recount some of the myriad legends and lore of Michigan's Great Lakes region. Along with monsters of the deep you will read of UFOs and alien encounters, shapeshifters, cryptids both winged and terrestrial, imps, fairies, gnomes, Black-Eyed-Kids, haunted lighthouses, and phantom schooners. Tim and Brad also share some of the ghost stories and mysterious happenings related to them by listeners of their radio show, Creaking Door Paranormal Radio.
Historic Rogers Theater is located at 257 N. Third Street, Rogers City, MI 49779