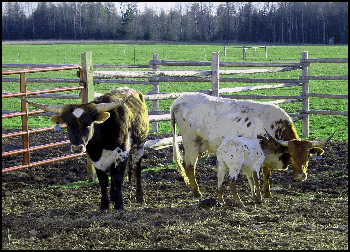 The perfect place to apply your hunting skills or kick up your heels and view the Texas Longhorn. Norb, Ranch proprietor, transformed a former milking parlor into a very cozy bunkhouse. Includes full kitchen, family room, two bedrooms and one bath.
Bunkhouse sleeps 5 people comfortably. Parking area large enough for boat trailers and snowmobile trailers. For waterfowl hunting, bring your own boat. A fun fishing pond is located on the property.
Hunting includes; Whitetail Deer with bow, rifle, or
Black powder. Turkey hunting. Rabbit hunting. Michigan hunting License Required. License may be purchased online. Our goal is to create a hunt that is geared around the needs of each individual who makes a reservation. Hunt locations are on private land near farming or grazing land. None of the deer are penned, all are free roaming and will require skill, planning, and a bit of luck.
Call for our competitive prices and availability.
Things To Do
Fishing, Hunting, Short Term Rental




5868 Dietz Rd
Alpena, MI 49707
GPS: 45.1313, -83.57432
Included In: