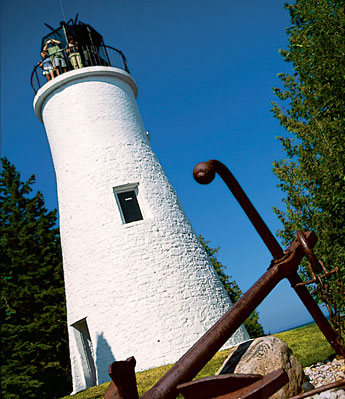 The Old Presque Isle Lighthouse is one of the oldest surviving lighthouses on the Great Lakes. Built in 1840 by Jeremiah Moors of Detroit, the harbor light operated until 1871 when the keeper transferred to a new, taller, coastal lighthouse a mile to the north. The Old Presque Isle Lighthouse park is a complex composed of two main structures, a keepers dwelling and a light tower. The stone and brick tower measures thirty feet tall and eighteen feet in diameter. Visitors can climb the hand-hewn stone steps for a panoramic view of the Lake Huron shoreline and Presque Isle Harbor. Nearby is the one-story side-gabled brick keeper's dwelling which serves as a hands-on museum. Here, visitors can blow foghorns and examine other interesting artifacts. They can also ring the bell from the Lansing City Hall clock tower. Tipping the scales at an impressive 3,425 pounds, this bronze behemoth is much bigger than the Liberty Bell, which weighed 2,080 pounds when cast. Visitors may also pose for the perfect photo opportunity with head and hands in an old set of punishment stocks.




5295 E Grand Lake Road
Presque Isle, MI 49777
GPS: 45.34252, -83.47818
Hours: The buildings and park grounds are open to the public daily, from 9am until 6pm, mid-May through mid-October.
Included In: