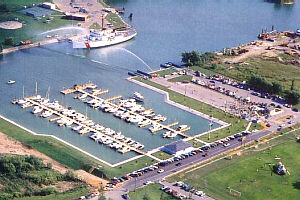 Channel: 45° 40' 01" N
84° 27' 22" W
Phone: (231) 627-4944
Harbor Master on duty: 5/6 - 10-15
Hours: 7am - 9pm
Off-Season Phone: (231) 627-6753
Radio Channel: 9
Northern Michigan's Inland Waterway is a unique adventure sure to please any boating enthusiast. Whether you're looking for a leisurely excursion filled with wildlife and scenic beauty, or a more active journey with water skiing, tubing, and swimming, the Inland Waterway is just right for you.

Along the 38 mile route, you'll find an abundance of fish and wildlife. Over seventeen species of fish inhabit the waterway from trout to pike, bass, perch and walleye. Deer, raccoon, swans and bald eagles also call the waterway home.

There is shopping and dining within walking distance of the rivers. There are several full service marinas and a few lodging accommodations along the way. Camping is also available along the route whether in private or state campgrounds.

The waterway begins at the mouth of Lake Huron and winds its way thorough the Cheboygan River into Mullett Lake. From there the water flows into the Indian River and on into Burt Lake, and continuing in to the Crooked River before coming to an end Crooked and Pickeral Lakes.


1080 N. Huron Street
Cheboygan, MI 49721
GPS: 45.65545, -84.46845
Included In: