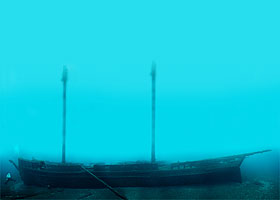 GPS Location: N45° 14.058' W83° 16.707'
Depth: 150 Feet
Wreck Length: 115 Feet Beam: 26 Feet
Gross Tonnage: 253 Cargo: Corn, Wheat
Built: 1848 in Perryburg, Ohio
Wrecked: October 20, 1854
Description: At just after 1 o'clock in the morning the two-masted schooner Defiance was run into by the J.J. Audubon off Presque Isle. Both vessels were fatally injured and sank within a few miles of one another. Defiance is remarkably preserved with mast upright and little damage to the hull.

Link to historical information on this ship.
Thunder Bay National Marine Sanctuary: Enjoy diving the wrecks of Thunder Bay, but always respect the past. State and federal laws prohibit removing or disturbing artifacts. Future generations are depending on us to leave historic shipwrecks intact. Please take only pictures and leave only bubbles.

The Thunder Bay National Marine Sanctuary maintains seasonal moorings at many shipwreck sites. Available from May to September, the moorings make for safer diving and also protect shipwrecks from anchor damage. Sanctuary regulations require vessels to use moorings when present.
Things To Do
Scuba Diving or Snorkeling
GPS: 45.2343, -83.27845
Included In: