GPS Location: N45° 00.460' W83° 14.990'
Depth: 16 Feet
Wreck Length: 190 Feet Beam: 30 Feet
Gross Tonnage: 709 Cargo: Lumber
Launched: 1857 by Luther Moses in Cleveland, Ohio
Wrecked: September 24, 1872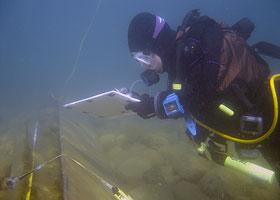 Description: The shallow water and rocks at North Point Reef have contributed to the loss of many vessels including the propeller Galena in 1872. After running hard aground the ship quickly went to pieces and is today scattered, flattened and intermingled with the wreckage of several other vessels, both schooners and propellers, lost in a similar fashion.
Link to historical information on this ship.
Thunder Bay National Marine Sanctuary: Enjoy diving the wrecks of Thunder Bay, but always respect the past. State and federal laws prohibit removing or disturbing artifacts. Future generations are depending on us to leave historic shipwrecks intact. Please take only pictures and leave only bubbles.

The Thunder Bay National Marine Sanctuary maintains seasonal moorings at many shipwreck sites. Available from May to September, the moorings make for safer diving and also protect shipwrecks from anchor damage. Sanctuary regulations require vessels to use moorings when present.
Things To Do
Scuba Diving or Snorkeling
GPS: 45.00767, -83.24983
Included In: