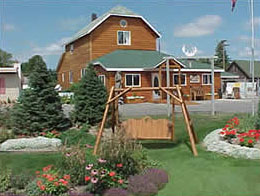 Welcome to Big Bear Lodge, a hotel in picturesque Alpena, Michigan. We're located just across the street from the sunrise shore of Thunder, Bay, Lake Huron.
This Alpena Michigan hotel offers cozy lodging and first-rate amenities and is located close to all of Alpena's recreations and attractions.
Each of our guest rooms features daily housekeeping, cable television, a refrigerator, a microwave, coffee maker, and free wireless internet access. The next time you're in the area, turn down the noise, take shelter from the storms of life and enjoy your stay with us.





2052 US 23 South
Alpena, MI 49707
GPS: 45.04662, -83.44988

Included In: