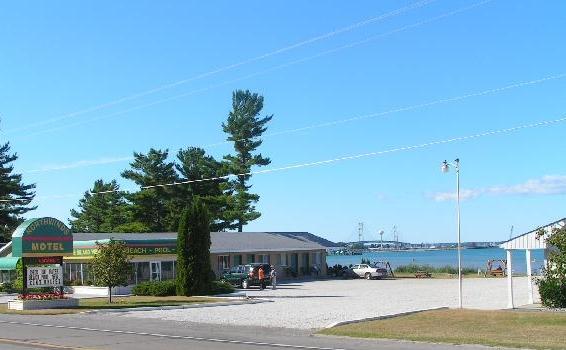 The NORTHWINDS MOTEL has all 1st floor room accommodations. The end rooms have private Waterfront Decks with full view of the Mackinac Bridge and Mackinac Island.
Watch the Mackinac Bridge with the beautiful lights at night, ferries and ships traveling Lake Huron thru the Straits of Mackinac.
View Mackinac Island and the Grand Hotel from the Sandy Shores, lawn swings or sit outside your door. Have a barbecue on the grill or roast marshmallow in the evening by the fire pit. Relax and enjoy all the benefits of this small Waterfront motel with Beautiful Sandy Beaches.
Mackinaw's only Indoor/Outdoor connected Pool and Hot Tub are available to swim, relax or sunbathe.
Things To Do
Freighter Watching, Scenic Viewing, Swimming, Water Feature Viewing



11472 W. US 23
Mackinaw City, MI 49701
GPS: 45.76615, -84.72134
Included In: