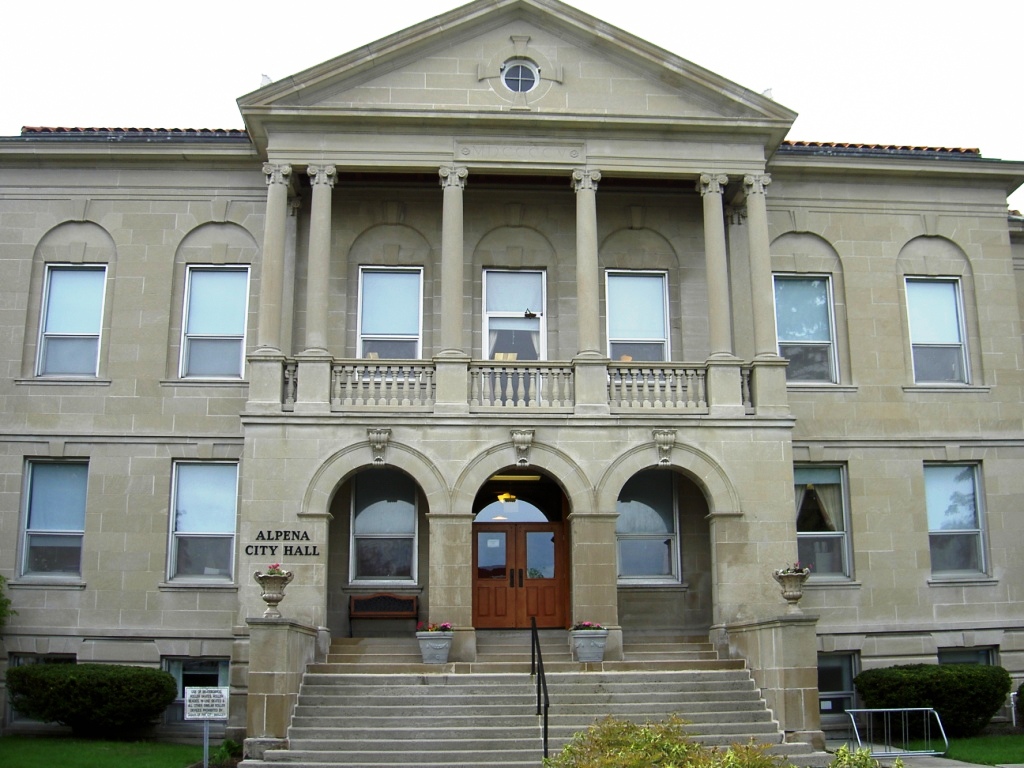 History of City Hall
According to a report prepared by Laurie Kay Sommer in 1986, "City Hall is an imposing, smooth faced coursed Bedford Limestone Building that sits to the rear of a spacious city block surrounded by a large landscaped lawn in which a Spanish
American War cannon is placed. The two story Beaux Arts Building measures 71' x 53' 6 ", with two 8' x 31' extensions, a 6' x 23' rear extension and a 6' x 6' portico. These dimensions go from a gabled central block with hipped roof pavilions to the front and rear. The roof is covered with red tile and the evesline is articulated with icanthus leaf ornaments, a two story pediment portico with an iconic colonnade and a semi-circular arched entry arcade framing the principal building entrance facing First Avenue, while a smaller portico accents the Park Place entrance. Recessed semi-circular arched panels house the double sash windows on the upper story. A porthole window highlights the pediment gable ends and main portico pediment. New metal doors and windows now replace the wood originals. The original crowning cupola, shown in the architect's sketch (picturesque Alpena 1915) was removed in the late 1950's.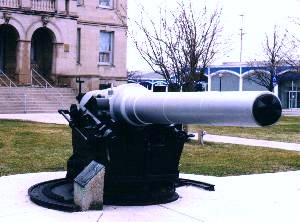 Bay City architects Clark and Munger designed City Hall in the Georgian Revival style. City Hall represents the work of several Alpena craftsmen. Local contractor Richard Collins supervised construction, the Northern Planing Mill and A. B Crow did the carpentry and marble work respectively.
History of City Hall Cannon
The Cannon displayed on the front lawn of City Hall is from the battleship Maine which was destroyed by explosion in the harbor of Havana, Cuba on February 15, 1898. This event precipitated the Spanish-American war. The ship's remains were eventually raised in 1912 and at that time Republican George A. Loud of Michigan forwarded to the Navy Department a series of resolutions sent to him by the chamber of commerce and the common council of the city of Alpena requesting the loan" of a piece of naval ordinance of historical interest". In March of 1912 the Naval Department decided to loan Alpena a six-inch gun taken off of the Maine.
The people of Alpena were ecstatic when the cannon arrived in Alpena on May 19, 1912. The common council planned a festive Independence Day for its unveiling and more than 7,000 visitors flocked to the city, eager to see the unveiling of the cannon from the martyred U.S.S. Maine. Alpena is the only city in the U.S. that can boast a cannon from the battleship Maine. This silent memorial to honor the loss of one of America's greatest warships still sits today in front of City Hall on the corner of Water Street and First Avenue.



208 N. First Avenue
Alpena, MI 49707
GPS: 45.06196, -83.4311
Included In: