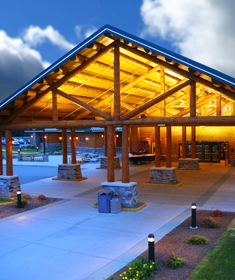 With over 800 exciting slots and a variety of electronic table games, there are plenty of ways to hit it big close to home. Located up north on the sunrise side of the state in Standish, our comfortable and convenient casino is the natural choice for fun and games. Stay with us at our new hotel - we have everything you need to make the most of your stay!
Your Saganing Eagles Landing Players Club Card is the key to your winning experience - the more you use it, the more valuable Eagle Rewards you'll earn; like Premium Play, exclusive mail offers and more! Stop by our Players Club and sign up for your card today. It's fast, free and easy to start earning Eagle Rewards.
Use your Comp Dollars at our Gift Shop! Your valuable comp dollars can be used for any of our gift shop items! Tobacco products are excluded.
Subway and some fast food items available for purchase.
Alcoholic beverages served
Bus Tours available:
Group Incentive Package:
- Each passenger receives $20 in Premium Play.
- One Driver and one Escort per motorcoach receives $30 in Premium Play.

Day Trip Details:
- Package is available 24 hours a day, 6 days a week.
- Group package is NOT available on Wednesdays.
- No minimum passenger requirement.
- Must arrive in a full-size motorcoach. No School Buses, Vans, or Limousines.
- Must stay a minimum of three (3) hours.

Book Your Trip Today!
For more information call [989] 775-5920.
Fax: [989] 846-4854
E-mail: SaganingBusTours@sagchip.org

Day Trip Guidelines:
- Tours must be booked five (5) days in advance to receive the incentive package.
- Tours must be booked with a Saganing Eagles Landing representative.
- A complete & legible passenger manifest must be received two (2) business days prior to arrival.
- Tours that arrive unscheduled or that have not provided a manifest will not receive the incentive package.
- Players Club card and/or valid photo ID are required at check-in to receive the incentive package.
- Only one (1) Driver and one (1) Escort per motorcoach are eligible to receive the incentive package.
- Upon arrival passengers must be escorted to the Players Club booth unless otherwise noted.
- All passengers must be in line to receive the incentive package.
- The escort must stay at the Players Club booth until all guests have been checked in.
- Please arrive at your designated arrival time. Late arrivals may result in longer lines at check-in.
- Arriving late may cause the incentive package to be denied.
Gift shop on grounds
Things To Do
Dining, Hotel





2690 Worth Rd.
Standish, MI 48658
GPS: 43.92497, -83.91465
Hours: Open 24 hours
Included In: