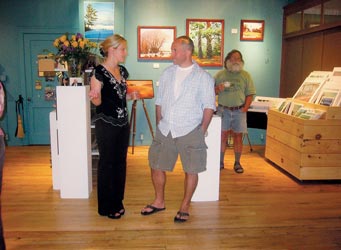 Hammond Bay Art Studio opened the doors of its latest endeavor, Domaci Gallery, on November 23rd, 2006. The gallery features the work of several contemporary artists and artisans as well as the work of owners Tim and Mary Pritchard. Many of the artists represented in the gallery are local Michigan artists, but also included are artists from as far away as Oberdorla, Germany.
Throughout the year the gallery hosts Featured Artist events where the artist is celebrated at an opening reception and the public is able to meet the creator of works on display. Live music is a new addition to the gallery. Once a month on Sundays, musicians perform for those who come to enjoy an intimate acoustic concert. It is the goal of the gallery to continue adding events that inspire and experimenting with new ideas.
Many wonder where the gallery got its name. Domaci means home in Slovakian, the heritage of owner Mary Pritchard who was born and raised in Rogers City where the gallery is located.
Things To Do
Artist Demonstrations, Arts & Crafts, Gift Shopping


169 N. 3rd St.
Rogers City, MI 49779
GPS: 45.42011, -83.81656
Included In: