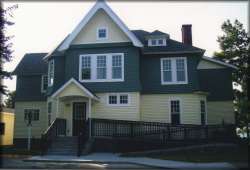 When the Iosco County Historical Society was founded on December 10, 1967, with officers, trustees and representatives from every city and township in the county, its major goal was to establish a county historical museum.

This goal has now become a reality.
The late Joseph Barkman donated $10,000 and many antique pieces from his private collection to help start the museum. His brother Harris was the moving force in getting the museum opened and acted as the director for many years.
The museum is located in a house built in 1903 by James D. Hawks, first president of the Detroit and Mackinaw Railroad. It was built for his daughter and son-in-law, Harry Waterman, who was assistant superintendent for the railroad. They occupied the house until 1912.
For the next 60 years, until 1972, it was the home of Lloyd G. McKay and family.
In 1977, the county purchased this house from the late Ladd McKay and donated it to the historical society to be used as a museum. With the help of the Tawas Area Kiwanis, a grant was obtained to purchase the property.
The museum is now a self supporting entity. It does not receive monetary help from any endowments or invested funds, but exists solely on memberships and donations. We are grateful for our members and all who help us maintain and staff this museum.
In 2008, the Historical Museum made major renovations, thanks to a generous bequest from the estate of Nelson and Frances Marsh. The outside received new vinyl siding and a handicapped accessible ramp. The garage and the carriage house have siding to match. The interior features displays that are both old and new.
Among them you will find exhibits featuring:
* Lumbering Days
* Railroads: D&M, etc.
* Native Americans
* The Fishing Industry
* Military Exhibits (from the Civil War to Desert Storm)
* Civil Service: - CCC camps - Law enforcement - AuSable dams and hydropower- Fire prevention and departments
* Domestic Living
* Victorian Parlor
* Historical archives (including over 5000 old glass negatives)
* Old class pictures
* The garage features old means of transportation and communication
* The Carriage House features local industry and agricultural exhibits






405 West Bay St. U.S. 23
East Tawas, MI 48730
GPS: 44.27874, -83.49413
Hours: Jan-Mar Fri-Sat 1-4 April-may Thurs-Sat 1-4 June-Labor Day Tues-Sat 10-4 Sep-Dec Thurs-Sat 1-4
Included In: